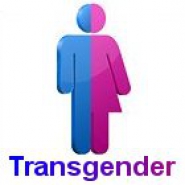 My experience as a transgender male escort
I have always admired the name Angelo and the moment I became a transgender, I made sure I took up the name. I am now a transgender and a male escort; I guess that is a jackpot. It is like achieving all I want and if I should die today, I bet you that I would have died a fulfilled man – and I would choose it a hundred times over to dying as a sulky old lady. Only a few people will understand this no matter how much I try to explain.
There are a number of challenges that I am still finding hard to overcome but before I weigh you down with my problems I think it would be best to have thrill your ears with some of the benefit that makes me grateful to be a male escort. The first on the list is that I now wield a monster dick and love the way ladies scream when I ride. That scream is a great melody that gets me going. It makes my dick harder and I can last longer. Ladies think guys are complicated but now that I am one of them, I understand exactly what it feels like.
The second benefit is that I do not have to worry about monthly menstrual pain and having myself being stained with blood and all those messy stuff. Ewww… I wonder how I was able to live with that for so long. From a very tender age, I have always been worried about giving birth. I had a friend when I was eighteen whose boyfriend got pregnant. I was fortunate to observe her when she was giving birth. The way she was screaming and all, I thought I have lost her. She made it but her vagina was different after that. After that day, the mere sound of pregnancy scares the shit outta me. Now I don't have to worry about any of that – isn't that awesome?
I also feel stronger as a guy and I know it is rare that we hear that a guy was raped so I am less scared of going to wherever I want whenever I want. Getting raped by some drunk is one of the things I feared the most but that too are history now  thanks to my new gender.
My greatest challenge is overcoming my former self. There are times when an anonymous person on the street would scream Angela  my former name  and before I know, I have spun around to see who was calling me, and then I come to the consciousness that I now a man and Angela would definitely not be me. Such embarrassing moments come often when I escort my clients to crowded occasion. At the initial stage, just immediately after my operation, I still introduced myself as Angela. Then the person would make a face which would make me quickly add, 'I mean Angelo, was just pulling your legs'. Those awkward moments…
Joining a transgender male escorts was relatively easy because there are not many of us around (not everyone can cough out the huge sum required to carry out the procedure no matter how much they wish to be of the opposite gender). There are also a lot of agents looking for transgender males so I had options to choose from. I chose UK male escorts because of their integrity. I went through their reviews and was convinced enough to sign up with them and I have never had any regrets ever since.
If you are currently a lady and have so much dreamed of becoming the other gender, then you have to give transgender male escort a shot. Becoming a trans male escort have been a great experience that I owe a debt of gratitude to my surgeons. Working as a transgender male escort has also helped me get over the feeling of a lady because I have been constantly exposed to the world of men to the point that another feeling has gradually faded away. I am super excited about the whole stuff.